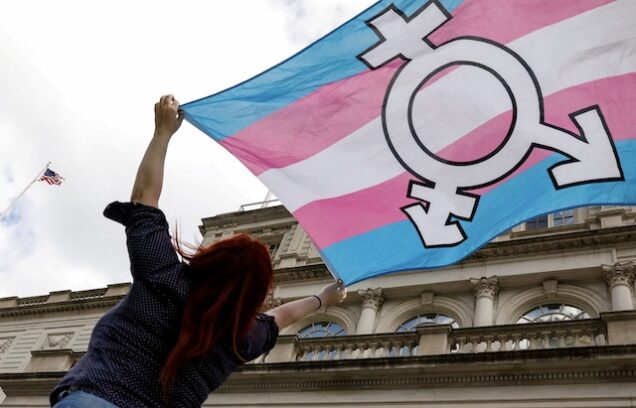 A woman, rallies of Transgender Americans
The state of Florida in the United States wins another battle against transgendered people for the second time in two weeks.
The federal judge of the state struck down a rule and a law prohibiting the state from funding healthcare for transgender people.
U.S. District Judge Robert Hinkle ruled that the state's practices were illegal, citing the 14th Amendment's promise of equal protection, as well as the federal Medicaid statute and the Affordable Care Act's prohibition on sex discrimination.
On June 6, Hinkle partially blocked Florida from enforcing its recent limitation on people under the age of 18 receiving gender-affirming care such as puberty blockers and hormone therapy.
Alabama, Arkansas, Indiana, and Oklahoma's federal district court judges have overturned state laws limiting gender-affirming care.
According to the Human Rights Campaign, Republican politicians presented over 500 bills restricting LGBTQ rights during the previous legislative session, with more than 70 of them being approved.
Twenty states have passed legislation barring children from receiving gender-affirming care.
The sponsors of the bill believe that they want to protect children who have been misled by their parents and doctors and may regret their gender transformation.
"Many people with this view tend to disapprove all things transgender and so oppose medical care that supports a person's transgender existence."- Hinkles stated in his 54-page opinion.
The judge wrote after a two-weeks trial,"The elephant in the room should be noted at the outset. Gender identity is real. The record makes this clear."
Two transgender adults, August Dekker and Brit Rothstein, and two transgender children sued anonymously as plaintiffs.
The defendants were the Florida Agency for Health Care Administration (AHCA) and its secretary, Jason Weida, who did not answer to an after-hours message seeking comment.
The AHCA had approved Medicaid payments for the plaintiffs, but in 2022, the executive office of Governor Ron DeSantis asked the AHCA to do a new analysis and change course.
The AHCA "retained only consultants known in advance for their staunch opposition to gender-affirming care," the judge concluded.
According to Reuters, the judge stated,"The new… process was, from the start, a biassed effort to justify a predetermined outcome, not a fair analysis of the evidence."
DeSantis is running for the Republican presidential nomination and has emphasized his record of staunch opposition to progressive policies such as LGBTQ rights.